Sugar Land, Texas
The Offices at Kensington is a development of Planned Community Developers (formerly Sugarland Properties) and includes two 4-story masonry office buildings. Completed in 1997, the development provides approximately 177,000 SF of Class A office space located near the intersection of US 59 and State Highway 6 in Sugar Land, Texas.
Houston, Texas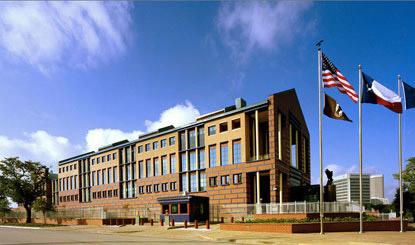 The 280,000 SF Federal Reserve Bank building was developed on a 9 acre site previously occupied by the Jefferson Davis hospital. It includes administrative offices, a full service cafeteria and kitchen, outdoor dining terrace, meeting rooms, tiered classroom space, a data center for data processing and electronic payments, a free standing vault, and facilities for the Bank's processing and building support operations. Post 9/11, providing security for the Bank's operations was a primary concern and was integrated seamlessly into the design. Designed in collaboration with Michael Graves Architect, the project was completed in 2005, the cost of construction $95M.
Pearland, Texas
Developed on 3.73 acres at the intersection of Mykawa Road and FM 518 in Pearland, Texas, the 5166 SF branch bank facility is designed to provide full service to the Pearland customers of Community National Bank. In addition to 4 drive-through lanes, a large vaulted lobby provides space for the community to gather. A large board room and break room are available for use by bank employees as well as customers and members of the community. Completed in 2008, cost of construction was $1.5M.
Individual experience of Lettie Harrell
Commercial