Baylor University - Waco, Texas
University Lofts, an off campus student housing project with proximity to Baylor University, is comprised of 274 residential units with a combined total of 1080 beds. The ten story structure was designed utilizing a concrete tunnel form system and pre-cast insulated panels. Amenities include pool, exercise room, dining facility and a 4 story pre-cast concrete parking garage. Construction cost estimated at $43.5M.
Houston, Texas
Martel College is the ninth and newest of residential colleges located on the Rice University campus. The 100,000 SF residential facility boasts 235 beds, classrooms, a dining facility and new Master's House, and was completed in 2002 for a construction cost of $23M. Michael Graves Architect collaborated as design architect on the project.
Houston, Texas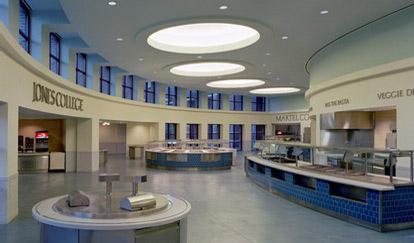 The work for this project involved the construction of a combined food preparation and serving facility for Martel, Jones and Brown Colleges, a new residential wing / commons area, as well as a new Jones College Master's House. In collaboration with Michael Graves Architect, construction was completed in 2002 for a cost of $13.7M.
Individual experience of Lettie Harrell
Student Housing